---
Farming & Ranching for the Bottom Line
2021 Farming & Ranching for the Bottom Line Conference
​
This years conference had over 500 attendees which included a global online attendee list, that reached audiences in all corners of the world.   Please click on the link below to view the slide show presentations.  
​
https://vimeo.com/showcase/8260415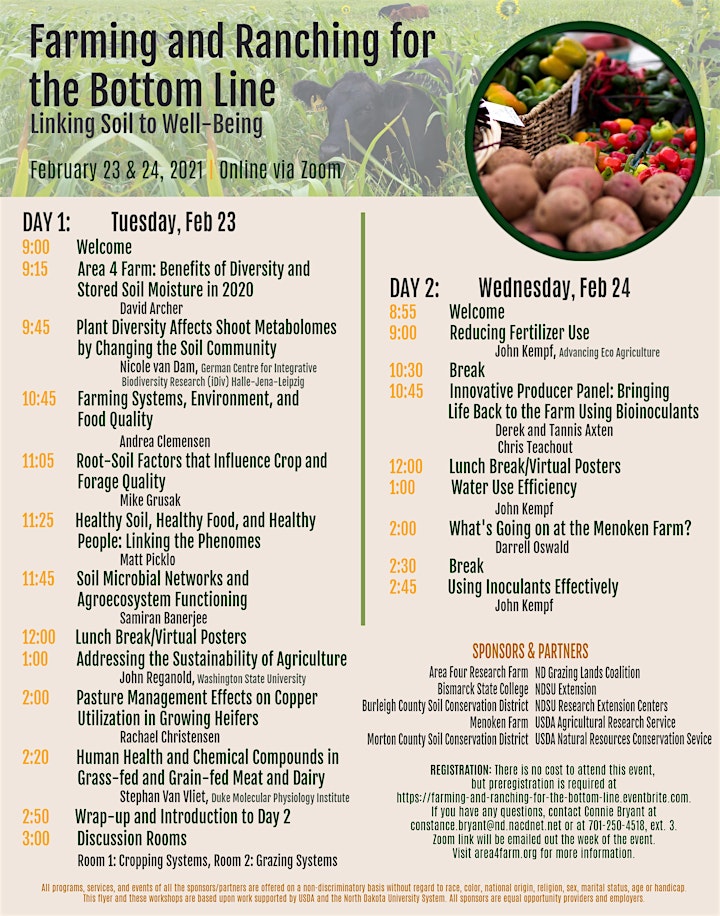 Registration is now open for the Feb. 23 and 24, 2021, "Linking Soil to Well-Being," the annual Farming and Ranching for the Bottom Line event normally held in Bismarck, N.D.
Due to the pandemic, this year's event will be held online via Zoom, a video conferencing service. The event begins at 9 a.m. Tuesday, Feb. 23, and continues at 8:55 a.m. Wednesday, Feb. 24, 2021.
14 speakers featured
Just two of the 14 speakers for the Feb. 23 and 24, 2021, event are Dr. Nicole Van Dam and John Kempf.
Dr. Nicole Van Dam: Van Dam is a professor at the Friedrich-Schiller University, Jena, Germany, and a researcher at the German Centre for Integrative Biodiversity Research, Leipzig, Germany. Her research mission is to unravel the molecular and chemical mechanisms governing interactions between plants and herbivores.
John Kempf: Kempf is the founder of Advancing Eco Agriculture (AEA), a plant nutrition and biostimulants consulting company. He is a top expert in the field of biological and regenerative farming. Kempf founded AEA in 2006 to help fellow farmers by providing the education tools and strategies that will have a global effect on the food supply and those who are growing that supply. He is building a comprehensive systems-based approach to plant nutrition, a system solidly based on the sciences of plant physiology, mineral nutrition and soil microbiology.
Please see the attached flyer for the full list of speakers and their speaking times.
Registration and Zoom link
There is no cost to participate in this online event. However, registration is required to get the Zoom link for the event. Those who register will be e-mailed the Zoom link invite the week of the event.
Register online at https://farming-and-ranching-for-the-bottom-line.eventbrite.com
Questions and more information
If you have any questions on registration or the event, contact Connie Bryant , Burleigh County Soil Conservation District (SCD), at:
   E-mail: constance.bryant@nd.nacdnet.net
   Phone: 701-250-4518, ext. 3